Happy Anniversary Cicely & Dan!!!

It's hard to convey the excitement and the honour I felt when my dear cousin Cicely asked me to help document the biggest day of her life. It's even harder to believe that it has already been a whole year since Dan and Cicely were wed in a spectacular holiday gala style wedding.
There were dinner parties and old friends, a ton of cousins, tea parties, fancy outfits, indulgent treats, and a festive wedding atmosphere that brought our holiday cheer to a whole new level. What started out as a winter wedding snowballed into an all out Christmas wedding party extravaganza, and I'm certain no one in attendance will ever forget it. From the festive decor to the groomsmen's kilts, an ice cream bar and an impromptu photo with a group of bar crawling Santas, this was absolutely a one of a kind wedding.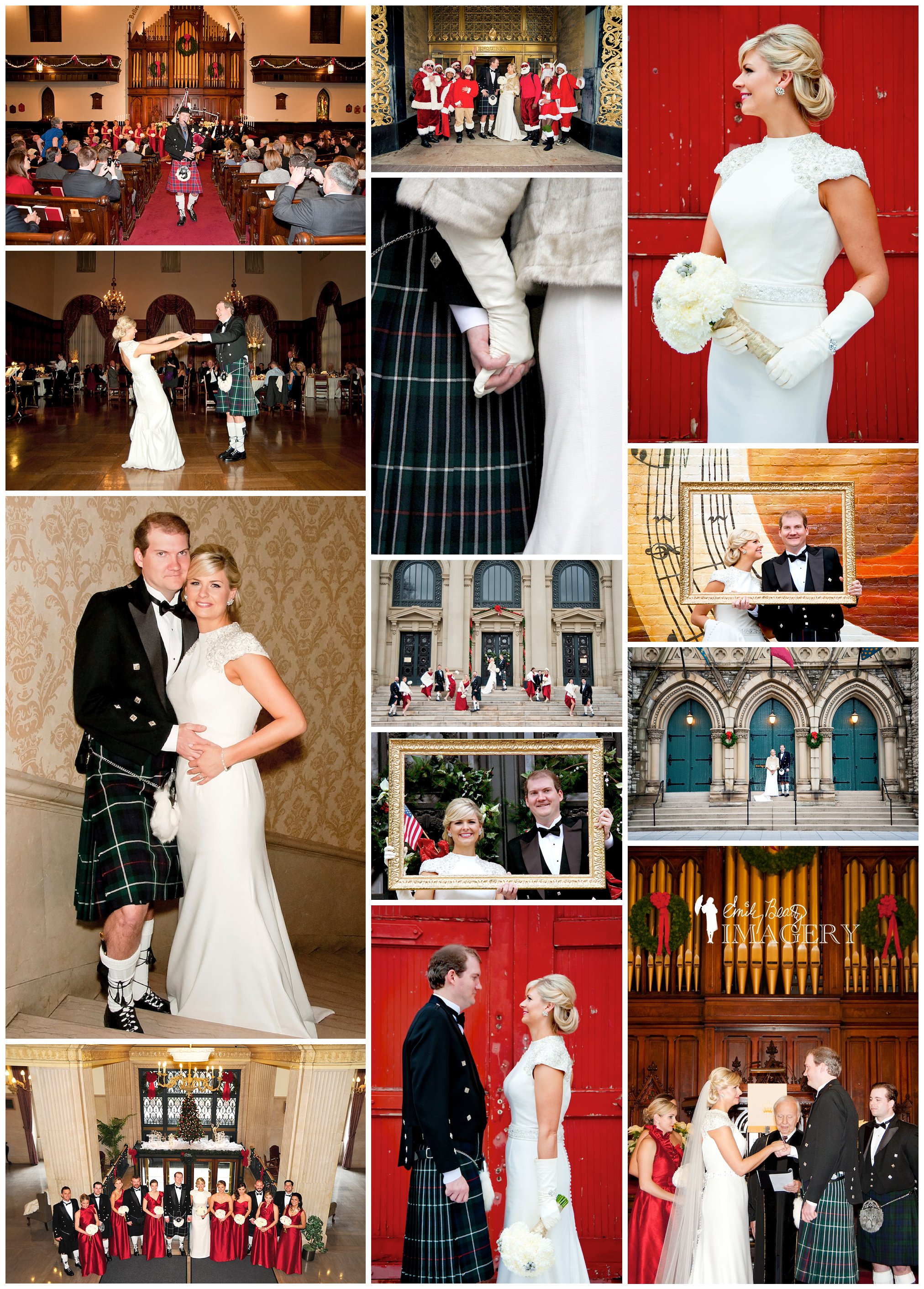 My mom and Cicely's dad are brother and sister. We grew up together, but only a few weekends a year- usually in the summer when the American Merritts would come stay with us on the way to the family cottage in Algonquin Park. Dan and Cicely first eyed each other up on the bus route heading to their university 7 or 8 years ago. Since then, I've had the pleasure of getting to know Dan, and even his family pretty well, by sharing drinks, stories, some really good meals, and good times at the lake.
I can clearly recall Cic phoning us at a Canadian family gathering to tell us Dan had finally proposed during the 2010 holiday season. My (fabulous) grandmother said, "Well it will be a Christmas wedding then! The bride should wear red. Why not!?!" At the cottage the following summer, we decided that by working together with Cincinnati photographer Kate Foxbower, I could both document Cicely and Dan's big day AND party like a guest. Thanks to my photography skills, I got to spend the majority of my cousin's big day with her– an honour I will relive again and again through these photos.
Thanks to Kate Foxbower and Natalie Merritt for assisting me with these photos. They each took a handful of these shots, but the majority I've chosen to display are my own. Together, the three of us captured a plethora of memories from the festivities on December 8th, 2012. Here are a handful (OK, a big handful) of my favourite images from the big day. Check back here soon to see part 2 of 2 for all the fantastic party pictures taken at the reception
Enjoy!
Cheers!